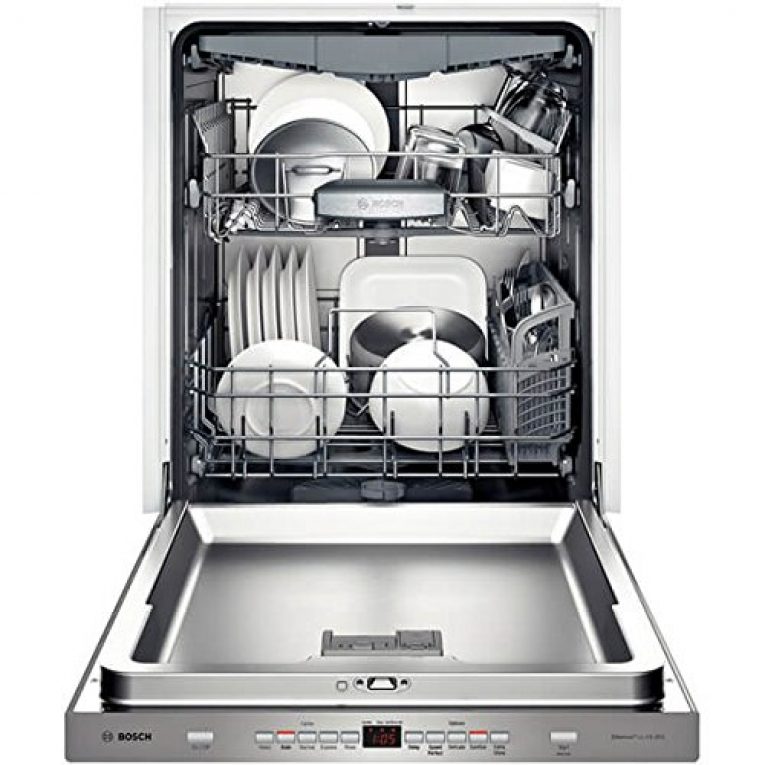 Washing dishes manually is certainly not the most anticipated and rewarding task. This is why, in a bid to simplify the process, dishwashers were introduced. They are perhaps the most important and labor-saving devices in the kitchen. Contrasting manual dishwashing which heavily relies on direct physical scrubbing of the dishes to remove the soiling, mechanical dishwashers clean the dishes by spurting hot water. Within the best home dishwashers, the water temperature typically ranges between 45 to 75˚c. Lower temperatures are used for delicate items.
Dishwashers operate under a simple principle. A mixture of water and dishwasher detergent is pumped in jets by rotating spray arms. This eliminates dirt on the dishes as well as cleaning them. Water is then drained, and more hot water is pumped to rinse the dishes. A rinse cycle is of immense importance to eliminate water spots and filming of glassware especially when hard water is used. Dishes are then dried using the various drying methods.
Dishwashers come in a plethora of designs. Typically, different designs have different dishwashing methods employed. Besides, they have varying features, which often, make other models superior to others. This makes it difficult identifying what is the best dishwasher. That said, intensive research is essential when hunting for the best dishwasher. This calls for a careful consideration of various factors.
Dishwashers Buying Guide
The essence of looking into the buyer's guide before purchasing a dishwasher cannot be ignored. Information collected or learned is vital in deciding on the type, model or brand of the dishwasher to consider. The variance among dishwashers is typically due to special features. Bearing this in mind, key factors to consider when buying a dishwasher include:
Dishwasher Size
Dishwashers primarily come in three different sizes. Each size determines its capacity range. They include:
Full-sized dishwashers
These dishwashers are approximately 60cm. The smallest full-sized dishwasher has enough room for 12 place settings. Since each setting accommodates 10 items, full-sized washers allow 120 items. The biggest full-sized dishwasher can squeeze up to 150 items. This makes them appropriate for parties and large families. A major advantage is that they are water and energy efficient. However, they cannot be used by small kitchens or smaller households who may not make up a full load.
Slimline
Slimline dishwashers are approximately 45cm. They have a maximum capacity of 100 items as they accommodate 9 to 10 place settings at once. This is a great choice for individuals who are short on space. However, they are not energy and water efficient if large items need to be washed.
Compact dishwashers
Such models can be integrated or table-top dishwashers. Integrated models take the drawer space in the kitchen whereas table-top dishwashers can be placed on top of kitchen counters. Dimensionally, they are comparatively larger than the largest microwave. They have a capacity of 4-6 place settings. Compared to slimline and full-sized dishwashers, compact dishwashers use more water and energy per item. They are a good choice if you lack enough space but are relatively expensive.
Dishwasher Type
Dishwashers come in two main types.
Freestanding dishwashers
They are the most common and fit into any kitchen. These types are available in various colors. However, white is their predominant color. Black, silver, and gray are also available. Being the most common color, they are easy to find and pocket-friendly. Besides, they are portable and can feasibly be taken anywhere.
Integrated dishwashers
Such types are designed to be incorporated to built-in kitchens. Integrated dishwashers are often hooked into your home's water and plumbing system. They fall into three main categories. The categories include:
Under the counter dishwashers
These dishwashers could be budget or premium under the counter dishwashers. Budget subtypes are practical workhorses designed for more utility than fancy features. Costing approximately $300 to $500, they maximize cleaning and energy efficiency.
On the other hand, premium subtypes prioritize owners comfort and convenience. They have extended features such as hidden controls, enhanced noise reduction, and additional wash cycles. With WIFI and remote access, additional cleaning features, specialized wash zones, and enhanced water coverage, expect to part with approximately $950 to $1600.
Under-sink dishwashers
These machines maximize kitchen space as they are designed to fit within the sink's plumbing pipes. Most under-sink dishwashers come with budget dishwasher features but with premium dishwasher price tags. Their price range is approximately $800.
Drawer dishwashers
These are the latest addition to the best dishwasher types. They fit in lower cabinets and can pull out like cabinet drawers. This makes them easier to load compared to standard dishwashers. Drawer dishwashers can come as a single drawer or double drawer dishwasher. They are available in only three standard colors namely stainless steel, black and white. Single drawer dishwashers are approximate $650 while double cost approximately $1000.
Design and Finishes
Dishwasher choice should not be all about washing dishes. Controls, handles, and finishes have a large impact on how the dishwasher will look. Some aspects include:
Exterior finish: always look for a dishwasher that matches and complements your existing kitchen appliance and décor. There are numerous dishwasher exterior finish available. Ranging from black, stainless steel, stainless look, white, bisque and custom pane ready finish, you will certainly find your match. This should deliver a beautiful and modern look. The exterior finish also determines the dishwasher's easiness to clean.
Control panels: semi-integrated dishwashers have their control panels located at the front of the dishwasher while fully integrated dishwashers have their panels hidden at the top edge of the door. Hidden panels provide an exquisite look beside keeping the buttons out of reach for little kids who may fiddle with buttons. Additionally, consider modern models which indicate the stage the cleaner is during the cleaning cycle. Some have display features such as shading a light bean on the floor.
Handles: dishwashers come with various handle styles. Recessed, pocket and bar handles are the common styles. Recessed and pocket handles make it easier to clean.
Interior finishes: most dishwasher interior tubs are either plastic or stainless-steel. Stainless-steel tubs often cost much more than plastic tub models. However, they help in reducing energy costs as they retain heat quite longer making the dishes dry faster. Stainless steel tubs are also durable, stain and odor-resistant compared to plastic models. Plastic tubs are common with affordable dishwashers. Top rated stainless-steel dishwashers are often the best choice.
Noise
Noise from dishwashers is entirely subjective. Nevertheless, there is need to minimize noise and interruptions caused by dishwashers. Modern models have noise cancellation features including additional layers of insulation, few moving parts, a solid base that absorbs noise and other sound-reducing innovations.
If you find this a major concern, avoid purchasing a dishwasher with a hard food disposer or self-cleaning filter. Despite being more efficient and convenient compared to the manual-clean version, self-cleaning filters creates inevitable noise as the filter grinds food particles. Manual-clean filters basically require irregular cleaning but produce minimal noise.
 Ease of use
Having the best dishwasher is a great asset in the kitchen. However, some complicated models limited extensive use of these machines. That said, when searching for a dishwasher, prioritize one with flexible loading features and cleanup. Some of the features making any dishwasher easy to use include:
Third racks – third racks create more space thus suitable for larger utensils and cooking tools such as tongs, whisks, and cooking knives.
Adjustable/removable racks – a dishwasher with such racks enables you to easily move racks up and down. With this, tall glasses, large plates, cookie sheets and stemware can be easily accommodated.
Adjustable or fold down tines – fold down tines secure lids and other lightweight items that may tip over and fill with water during the normal wash cycle.
Silverware caddies – movable silverware caddies allow you to change their location from one load to the next depending on positions it fits best.
Cleaning Effectiveness
Cleaning effectiveness of any dishwasher depends on the wash systems and the cleaning cycles of the dishwasher.
Wash systems – common top dishwashers wash systems have three rotary spray arms. The arms are located at the top, middle and bottom of the dishwasher tub. The arms spin and circulate during the wash cycle to clean the dishes. That said, wash systems with more tiers and wash arms provide a thorough cleaning compared to one with one or two rotary arms. Modern systems that provide powerful cleaning are due to dozens of tactically placed jets that remove or blast away stubborn stuck on food during the cycles.
Dishwasher cycles – basic washing cycles including the light, normal and heavy cycles are common. They are used for pots and pan cleaning. However, consider a dishwasher with advanced and enhanced cycles such as glass or stemware, pot scrub, sanitize wash, quick wash and rinse cycles. Specialized cycles such as the NSF certified sanitizing rinse are great for cleaning baby bottles or cutting boards. This is because they heat the final rinse water to high temperatures that kill germs on dishes. Steam clean options provide steam cleaning options in various ways.
Energy Efficiency
Definitely, nobody wants a dishwasher that results in high energy bills at the expense of labor saving. Look for dishwashers with Energy Star label to cut on water and energy bills. It also helps in protecting the environment. Bearing this in mind, consider the following energy efficient features when looking for a dishwasher.
Soil sensors – the best dishwasher should be fitted with soil sensor technology monitor food and dirt particles amount in each load. They then adjust the water level and cycle as needed. Using this regulation, they use only the needed water and energy for the particular load.
Half-load options – this is a perfect choice if you have smaller dish loads. A dishwasher with half-load or upper rack only cycle typically uses one spray arm or shorter cycles that use less water and energy.
Speed or eco-wash cycles – this option suits dishes without stuck-on food. Express cycle uses a smaller amount water and a short wash cycle.
Drying cycles – dishwashers that include fans in their drying cycle use less energy as the rate of drying is quite faster compared to those using heat only.
Dishwasher Installation
Once you have purchased your preferred dishwasher, installation is the other daunting task. This is why it is prudent purchasing a dishwasher that comes with an installation package. Each installation package includes proper installation by a licensed and insured professional, a dishwasher hookup kit and much more. This is certainly a prudent choice.
Taking into consideration the guides outlined above will come in handy when searching for the perfect dishwasher. Be it for home/family, commercial or any other use, dishwashers selection should be made carefully. That said, the best dishwashers categorically include the following.
Top Rated Dishwasher: The Bosch 500 Series SHP65TL5UC Dishwasher
The Bosch 500 Series SHP65TL5UC Dishwasher is a sleek modern design of the Bosch series of dishwashers. It is a perfect addition to any home kitchen. It fits flush your kitchen cabinet cut out providing an extra 16 place setting capacity. The dishwasher offers five wash cycles and six option, perhaps the reason why it is among the best-rated dishwashers. Being among the quietest dishwasher, you can run your dishwasher any time of the day or night. This is perhaps why it fits among the best dishwasher from Bosch, who make the best dishwashers.
Click Here for Pricing, Pictures and Reviews on Amazon.com
At first sight, you'll certainly fall in love with this best stainless-steel dishwasher. It is a built-in dishwasher not only installs flush to your kitchen cabinetry cutouts but also provides a seamless look for the kitchen. Moving on, The Bosch 500 Series SHP65TL5UC Dishwasher has flexible silverware basket that makes loading convenient. The silverware is flexible thus can be moved to any racks. It can also be split in half to accommodate all your dishes and cookware.
Through its five wash cycles with six options, The Bosch 500 Series SHP65TL5UC Dishwasher guarantees a thorough clean. The five wash cycles include the auto, regular, quick wash, rinse and hold and power scrub plus. Among the six options offered by this best dishwasher include crystal protect, sanitation, extra dry, variospeed and much more.
Hand scrubbing pots and pans is a thing of the past with this dishwasher. There is no need as its powerful wash cycle cuts into the tough, hard to reach, baked-on and stuck mess on the dishes. This saves time when cleaning your items. Besides, the quick wash cycles coupled with no scrubbing makes this dishwasher perfect for days you are in a hurry.
Best dishwashers require dishwasher detergents to work effectively. That said, the detergent tray is designed to optimize detergent dissolving. Moving on, the dishwasher is fitted with an innovative load size sensor that reduces its annual water consumption. It automatically adjusts the water level to the optimum required thus minimizing water usage.
The other crucial feature of this dishwasher is its advanced Aqua stop leak protection that monitors the dishwasher 24/7. This system uses a stainless-steel tub thus preventing potential leaks. It automatically shuts down the system and drains excess water from the machine preventing spillage. Last but not least, it has an energy star stamp. This ascertains efficient energy consumption.
Pros of The Bosch 500 Series SHP65TL5UC Dishwasher
Has a third rack offering more versatility and 30% more loading capacity.
Offers three height levels.
Quietest dishwasher brand available.
Has a load sensor.
Cleans exceptionally well.
Water and energy efficient
Cons of The Bosch 500 Series SHP65TL5UC Dishwasher
Has some slight draining problems.
Complicated controls.
Has no self-control filter.
Top Rated Hidden Control Dishwashers:
The KitchenAid KDTM354DSS Dishwasher
The KitchenAid KDTM354DSS Dishwasher is a superior performer that dries and clean exceptionally well, reviewed by professionals and users. This earns it excellent ratings for both cleaning and drying. This dishwasher makes a breakthrough with its ultra-fine filtration abilities. Even with the heaviest loads, the dishwasher does an excellent job. It features a ProScrub option that uses 40 spray jets that eliminate stubborn stuck-on messes. It also has an Advanced ProDry option that ascertains advanced drying performance by circulating air from the heating element. It accommodates 15 place settings thus an excellent choice for individuals with quite large loads to clean.
Features of KitchenAid KDTM354DSS Dishwasher
Has a clean water wash system that continuously removes food particles from the wash water. This exclusive technology ascertains excellent performance as there is no need of removing and frequently cleaning the filter.
Its ProScrub option eliminates the need for pre-scrubbing. Aided by 40 spray jets, the dishwasher is efficient by removing stubborn messes such as baked-on foods.
Has a professionally inspired design. This combines the bold blend of professional styling with sleek touches making it a beautiful console dishwasher.
The advanced ProDry system delivers the best drying performance without the necessary use of a rinse aid. It uses a recessed heating element and a fan that draws moisture out of the washing tub resulting in better drying results.
The upper rack is made from SatinGlide Max rails creating a smooth and premium feeling. This works exceptionally well even with heavy loads.
Has sliding tines in the lower rack that provides ideal space for deep and narrow dish sizes. The tines are adjustable thus lets you customize the row spacing.
The upper and lower rack has 2 rows fold-down tines that are adjustable. They can be shifted into one of the three possible positions thus can accommodate deep or wide dishes.
Has a utility basket in the upper rack that provides space for small items including small lids and utensils.
The KitchenAid KDTM354DSS Dishwasher is an express wash that quickly and effortlessly eliminates the heaviest soils including baked on and seared messes.
Provides six wash cycles with several option selections thus ascertaining excellent cleanliness. It is also simple, intuitive and easy to use. The cycles include express wash, normal, ProWash, rinse only, light/china and tough. Just to mention, the option selections include ProScrub, Control Lock, ProDry, Top Rack Wash, Sani Rinse, Hi Temp Wash and 2-4-8 Hour Delay.
Pros of KitchenAid KDTM354DSS Dishwasher
Has an energy star rating thus ensures energy and water efficiency.
Easy to use
Ridiculously quiet
Made simple stainless-steel with a sleek design.
Is an excellent performer
Cons of KitchenAid KDTM354DSS Dishwasher
The detachable filter may be quite difficult to remove
Users raise concerns over unassured effectiveness in removing burnt cheese on ceramic dishes.
The 2017 Bosch 300 Series Dishwasher
Bosch dishwashers are not only popular in the market but also prove to be one of the best. From the Ascenta series, 300, 500 and 800 dishwasher series, Bosch strive to make a difference in the dishwasher market. Compared to other series, the 2017 Bosch 300 Series Dishwasher has the bare minimum in terms of features and functionality. It also has an impressive sound level and place setting capacity. With a 46-decibel sound level, this dishwasher makes it as among the quietest dishwasher.
The dishwasher achieves four wash cycles and additional four wash options. The wash cycles include auto, heavy, normal and rinse. The options are delay start, extra shine, sanitize and delicate. This provides an assurance of sparkly results.
Click Here for Pricing, Pictures and Reviews on Amazon.com
Features of 2017 Bosch 300 Series Dishwasher
RackMatic- the dishwasher has an adjustable upper rack. The racks have three height levels which were only available from the 500 series onwards.
24/7 Aqua stop – this dishwasher has a redesigned base meant to reduce leaks. It has a sensor and pump that shuts down and drains water in case leaks occur when being operated.
Reduced noise – like other Bosch series, the 2017 Bosch 300 Series Dishwasher is pretty quiet.
Speed60 cycle – this is a quick cycle that is incorporated to clean and dry swiftly.
ExtraDry – with this feature, the dishwasher raises the temperature during the drying phase.
Water softener – normally an option reserved for high-end dishwasher brands, the 2017 Bosch 300 Series Dishwasher is equipped with a water softener.
EasyGlide wheels – the upper and lower racks of this dishwasher slide in and out smoothly.
Energy Star branding – this Bosch dishwasher has an energy star rating. This ascertains both water and energy efficiency.
It features a running indicator. Factually, the dishwasher has hidden controls. This makes it daunting to know when the unit is running. However, with the running indicator, in the form of a red infolight, it shines on the floor when running and turns off when dishes are ready to be taken off.
Pros of 2017 Bosch 300 Series Dishwasher
Has an infolight that indicates when running
Low noise level
Energy and water efficient
Comes with water softening option
ExtraDry option offers easy drying
Hidden controls provide an exquisite appearance
Cons of 2017 Bosch 300 Series Dishwasher
It lacks a small load function
Lacks a quick wash cycle
The Thermador Emerald DWHD440MFM Dishwasher
The Thermador Emerald DWHD440MFM Dishwasher complements your passion for enticing food experience by providing a flexible dish care solution without restriction. Like other Thermador dishwashers, the Emerald DWHD440MFM provides utmost luxury with absolute flexibility. This best dishwasher can be easily integrated into any kitchen cabinetry with slight custom paneling.
Click Here for Pricing, Pictures and Reviews on Amazon.com
Features of The Thermador Emerald DWHD440MFM Dishwasher
Has 15 place settings thus cleans a relatively large number of dishes.
Has an energy star qualification.
Fitted with a blue PowerBeam that indicates when the unit is running. This is perhaps because its controls are hidden.
Operates with impressive quietness.
Has a Sens-A-Wash that not only measures water cleanliness but also adjusts the wash cycles.
Provides an extra dry option with high drying temperatures and longer drying phases. This delivers superior drying results as well as sanitizes 99% of bacteria.
Made from stainless-steel materials both externally and interiorly thus ascertaining long-lasting reliability, free from rusts, nicks, and chips.
Pros of Thermador Emerald DWHD440MFM Dishwasher
Easy to use
Provides extra drying options
Has an energy star qualification
Comes with a blue power operating indicator
Cons of Thermador Emerald DWHD440MFM Dishwasher
Top Rated Front Control Dishwashers:
The LG LDF5545ST Dishwasher
Rated the best front control dishwasher, the LG LDF5545ST Dishwasher provides a whole new experience with LG dishwashers. Made with a front control design, this makes it easy to preview, select and customize any settings. Paired with a 10-year warranty, this should be your best dishwasher of choice when searching for a front control dishwasher.
Click Here for Pricing, Pictures and Reviews on Amazon.com
Features of LG LDF5545ST Dishwasher
QuadWash spray arms – the dishwasher comes with four spray arms including the multi-motion arms which rotate back and forth. It also comes with high-pressure jets which clean dishes from multiple angles.
Has an intuitive EasyRack system which is adjustable and fully customizable.
Technological advances including the Inventer DirectDrive motor and advanced self-cleaning filtration system enhances its quiet performance.
It has an Auto Cycle which senses the level of dirt automatically on dishes and sets the wash cycle thus providing for optimal cleaning time.
Has a Dual Zone Cycle that allows for upper and lower rack intensity change. This allows you to accommodate different items in one load.
Connects with the phone through Smart Technology that allows you to troubleshoot any dishwasher problem from the phone.
Made with stainless-steel interior that accommodates 15 place settings. With such space, you can clean a lot of dishes with one load.
Front controls allow for easy settings selection and changes whereas the LED display provides details at a glance.
Has a half load option that saves on water and energy. Just to mention, half load options allows the user to wash items either in the upper or lower rack alone.
Comes with an advanced filtration system which is tough on dirty systems as well as offering a quiet and efficient operation.
The dishwasher is energy star rated thus ascertains to be among the most energy sufficient dishwasher.
With the hybrid condensing drying system, the LG LDF5545ST Dishwasher dries out dishes exceptionally well. This includes both plastic and wooden utensils.
Pros of LG LDF5545ST Dishwasher
QuadWash cleaning ascertains sparkly clean on dishes.
Hybrid condensing drying system dries dishes right out of the dishwasher.
Energy rated thus energy and water efficient.
Smart diagnosis enables you to troubleshoot and diagnose the dishwasher from your phone.
At 48 decibels, be certain of quiet operations.
Spacious with 15 place settings.
Easy to load
Has simple controls with attractive design
Cons of LG LDF5545ST Dishwasher
Users note relatively poor rinse.
May not be compatible with all detergent types.
Lacks a self-cleaning filter thus requires manual cleanup.
The Miele Futura Classic Plus Series G4925SCUS Dishwasher
This is a perfect dishwasher choice for those looking for a front control dishwasher with perfect cleaning results. Coming from Miele, the Miele Futura Classic Plus Series G4925SCUS assures utmost performance compared to other dishwashers of the same price caliber. It complements with your kitchen décor coupled with visible controls for easy selection wash programs, menu settings, start time and wash options.
Similar yet different from Miele previous models, the Miele Futura Classic Plus Series G4925SCUS comes with an additional myriad of features aiming to satisfy customer's choice.
Features of Miele Futura Classic Plus Series G4925SCUS Dishwasher
Has spacious interior settings with 16 place settings.
Has 5 wash cycles including the normal, pots and pans, rinse and hold, SaniWash and express cycles.
Its MultiComfort area allows for cleaning of all types of dishes including large pots and pans.
The comfort basket design makes it easy for the dishwasher to be loaded and secure for optimum results.
Comes with a cutlery tray such that cutlery items don't touch other dishes.
Has a double water proof system that automatically cuts off the water supply in case of leakages or blockage.
SaniWash feature offers high temperatures that remove dirt and germs from chopping boards, utensils and baby bottles.
Comes with a comfort close door which makes the door easy to open and close or remain open in desired positions.
Like other Miele appliances, it has a child lock with visible indicators.
Has a countdown indicator that displays the time left for the running program.
Its delay start feature allows you to set a program up to 24 hours in advance.
Half load option saves on water and energy as it automatically recognizes the load and adjusts water and electricity required.
Pros of Miele Futura Classic Plus Series G4925SCUS
The double water proof system saves on water loss in case of leakages.
Easy to load enhanced by its ergonomic basket handles.
Half load options save on water and energy by pre-programming water and energy needs according to the load.
Easy to use compounded by its delay start program that allows you to preset the dishwasher 24 hours in advance.
The countdown indicator indicates the time left thus easy management.
Energy star rating ascertains energy and water efficiency.
Extra quiet
Cons of Miele Futura Classic Plus Series G4925SCUS
Some users complain of inefficient cleaning power, especially for pots and pans.
Limits flatware washing as not all can fit the dishwasher.
Top Rated Portable Dishwasher: The Kenmore 14652 Portable Dishwasher
The Kenmore 14652 Portable Dishwasher is a perfect alternative that provides exceptional kitchenware cleanliness. This comes in perfectly where installing a standard 24" dishwasher is not an option. It provides the convenience that a full-sized unit offers without sacrificing your kitchen space. Made from nylon coated, premium stainless-steel materials, the dishwasher ascertains durability, reliability and is rust resistant. This certainly withstands the test of time.
Its quality performance and compact size make the Kenmore 14652 Portable Dishwasher a perfect and prudent addition to your kitchen, second home or studio apartment.
Features of Kenmore 14652 Portable Dishwasher
Has 6 wash cycles including eco and gentle ascertaining clean dishes.
Allows you to wash on your schedule. This is enabled by its delay start feature. With this, you can load the dishwasher, select the appropriate cycle and delay running until you are ready.
Its gentle china cycle washes your dishes with a gentle touch. Finest crystals and delicate plates are nothing to worry about.
Has a QuietGuard installed technology that assures quiet operations of the dishwasher. You can operate the dishwasher both day and night.
Save your resources and take advantage of its Eco wash cycle. The cycle reduces water temperatures, shortens the cycle and eliminates the end drying cycle thus saves on valuable resources with every wash.
Pros of Kenmore 14652 Portable Dishwasher
An exceptional wash performer.
Made with rust resistant, durable and reliable stainless-steel interior.
Comes with six wash cycles ascertaining clean dishes.
Energy Star rated.
Cons of Kenmore 14652 Portable Dishwasher
The interior cannot be customized
Relatively pricey
Compared to other models, it is relatively noisy with 58dbs.
Dishwasher with Best Warranty: The Maytag MDB4949SDM Dishwashers
Maytag manufacturers are among the heavyweight brands when it comes to household appliances. Maytag dishwashers aren't available in diverse options. However, even with the four models available, they ascertain quality and utmost performance. They have powerful cleaning tools, easy to use controls and high load capacities, which are reflected on this specific best dishwasher.
Features of Maytag MDB4949SDM Dishwashers
Like other Maytag dishwashers, if can handle a maximum of 15 place settings in a single load. This allows for cleaning of a relatively large number of dishes in a single load.
It features a PowerBlast cycle that cuts through stuck on food particles with high-powered spray jets. This gives your dishes nice sparkles.
Offers a wide array of wash cycles including auto clean, quick wash, rinse only and normal cycles. Options to augment these cycles include Heated Dry, Control Lock, 1-24 Hour Delay, Sani Rinse, PowerDry and Hi Temp Wash.
Comes with an excellent warranty period of 10 years, which is the major landmark of this dishwasher.
Pros of Maytag MDB4949SDM Dishwashers
Has a soil sensor that adjusts water and energy requirements.
Made with a stainless-steel interior.
Has a time remaining display.
Has a self-cleaning filter
Has a delay start feature
Energy efficient
Cons of Maytag MDB4949SDM Dishwashers
Doesn't clean thoroughly as it results in spotty cleaning
Has long cycle times
Poor water filtration limits its use
Others –
The Indesit DFG26B1 Dishwasher
The Indesit DFG26B1 Dishwasher is a perfect choice for medium households with minimal loads to clean. With 13 place settings, this model is a perfect family sized dishwasher looking for energy and water saving machine. It is the best mid-range dishwasher. Its ease of use, eco-friendly and attractive price are some of the premium aspects to awe about.
Features of Indesit DFG26B1 Dishwasher
As mentioned, it has 13 place settings which are great for medium sized households with 6 wash programs. The programs include Daily 50, Eco 50, Normal, Eco, Half load, Intensive 65 and Express programs.
Has an energy star rating thus water and energy efficient.
Half load possibility that adjusts water and energy requirements. This is designed for smaller loads.
Comes with height adjustable top basket.
Has a delay timer that enables users to schedule their wash cycles in accordance with their plans.
Comes with fancy LCD panel that displays the basics when the dishwasher is running.
Pros of Indesit DFG26B1 Dishwasher
Easy to use with one controlling knob
An excellent stain remover
Water and energy efficient compounded by half load and other options featured.
Has a delay timer that provides for additional three, six or nine-hour wait.
Comes with LED displays making it not only intuitive but interactive.
Has a salt light and rinse aid indicator
Cons of Indesit DFG26B1 Dishwasher
Lacks collapsible racks in the lower baskets
Comparatively noisy with a noise level of 49 dbs.
Conclusion
Dishwashers come in when the need to ease the process of cleaning dishes supersedes manual washing. Due to their expansive use and market, manufacturers come in with a myriad of options to choose from. This is why finding the best dishwashers on the market is quite a daunting task. The best dishwasher, with the best dishwasher reviews will enable you to get value for your money.
Dishwasher choice, despite being based on individual preference, should also factor in dishwasher features. Whereas many come with several features, all in a bid of making the dishwashing process simple and easy, there are basic features that should be prioritized. Place settings, options, wash cycles, water and energy efficiency and other specific features are just but a few to mention.
The options provided above are the best in their specific categories. The options aren't limited but offer some insight into what you should be looking into when searching for specific dishwashers. Price, though not included, is also a crucial consideration. It should, however, not be a deal breaker. Prioritize other factors before looking at the dishwasher price. If the price is your major concern, find dishwashers suiting your pocket depth with better features. Good luck!!