Stand mixers are indispensable kitchen tools for a majority of households. Initially, cooks would manually mix dough with their hands, which would considerably consume a lot of time and cause fatigue. For most bakers, a stand mixer is a tool they can hardly work without; once you get used to using a stand mixer, going back to baking with your hands seems almost impossible.
There are two types of stand mixers consumers. Those buying them for the first time and those who are replacing an old mixer. It is exceedingly common to hear someone talk about how life is impossible for him or her without stand mixers. They make the baking and mixing process less time consuming, tedious and produce fine textures. Stand mixers are useful in making thick dough or bread or pizza, or other cooking recipes such as meatballs or cookies.
Thus, what is the best stand mixer? The best stand mixer should be powerful enough to handle almost all type of work. It can be challenging to decide the best KitchenAid stand mixer to buy, below are factors that will help you identify which KitchenAid stand mixer is best.
Factors to Consider When Buying Stand Mixers.
There is no absolute comparison between the best free standing mixers and hand mixers. The best mixer for heavy duty and accurate performance is stand mixers. However, there are certain factors you should put in mind to choose the best stand mixer. These are:
The purpose of the Stand mixer
How you plan to use your stand mixer should be the first consideration to make before buying. If you usually bake for large social events, a big family or make many bread loaves, your requirement should be a big bowl mixer with a powerful motor. Capacity consideration is very vital. If you have small needs and choose a large stand mixer, you will find it cumbersome to mix small batches. On the other hand, if you have bid needs and buy a small stand mixer, you will have to mix your dough or paste in small portions which are time-consuming.
Capacity and Power Performance
At times, it may appear that higher wattage stands mixers are very powerful. However, this cannot be true and never been the case. Some stand mixers use much more wattage to execute work than others and may produce less power than indicated. Hence, it is wise to make your buying decision based on capacity other than the wattage being advertised. Many manufacturers will show the capacity of the stand mixers bowl. However, it is usually on the high side, so, when buying, base the capacity on the lower side.
Features of the Stand Mixer
If you want to purchase the best stand mixer, it is key to check features of the best stand mixers available in the market. An excellent stand mixer should have a tilt head for easy use; overload protection is also another factor you should consider. It is also advisable to choose an all-metal stand mixer as they are more durable. Before you purchase any mixer, it is wise to compare all its features to those of other and choose the best for your requirement.
Limitation of the Stand Mixer
Every good thing always has a downside. It is impossible to get a stand mixer that is 100% perfect. Therefore, you should also put the mixers limitations in mind when buying. You expect high wattage stand mixer to handle dough quickly; conversely, they all have their cons. Stiff dough is a challenge for almost all stand mixers. If dough makes your motor stall and sluggish, then note that your stand mixer is not intended to handle that denseness or capacity of dough. It is not unlikely that at times you will have to smoothen out dough with your hands. Ensure that you follow manufacturer's instructions on the duration the stand mixer should take per session; this will prevent the motor from burning out. It is also important that all stand mixers have overload protection built-in and are not designed to run for an extended period continually.
Quality of The Stan mixer
The market has a broad range of Stand mixers for you to choose from, you should put into consideration the quality of what you are buying and the price tag on it. In many instances, expensive units may have a rotating or spiral action to cover large mixing area and get close enough to the sides of the mixing bowl. There is less scrapping with this action because it pulls the contents into the center of the mixture. In general, the more powerful your stand mixers, the more you can do with the mixer. Also, the best budget stand mixer will have all metal and highly durable parts.
Stand mixer's Weight
Weight is an important factor to consider when buying your stand mixer. This factor has to do with its ease of movement and cleaning. If your kitchen space is minimal, the best stand mixer for you will be the very light one to allow you move it around easily. A heavyweight stand mixer will require more effort or assistance to move; you should only purchase these if you have a considerably large space. If you keep your stand mixer in the cabinet, you will need a lightweight mixer unlike if you will keep it on the counter. Typically stand mixers of not less than 20 pounds are more stable when the motor is running the thick dough while light mixers will move around the counter. Hence you will need to check it constantly.
Speed Setting Options
Different food types require varying mixing speeds. Most Stand mixes have several speed options, usually between 4 to 12 options. The best stand up mixer should start a low speed to allow you add all ingredients comfortably. The majority of stand mixers fast speed for meringue making. Usually, most bakers would work with three speed-setting options, but you could go for higher speed options if you are over ambitious with absolute baking precision.
Noise Level
Some mixers are very noisy when the motor is running; they produce a kind of noise that interferes with your neighbors and a sleeping baby. You should choose a stand mixer that works silently without compromising everyone's comfort.
The Top 8 Best Stand Mixers
The KitchenAid Artisan KSM150PSER
This kitchen aid is very catchy at first sight; it has a variety of brilliant colors to choose from. This great ten-speed stand mixer is very powerful and makes your mixing tasks very easy. The mixer has a one-year warranty from the time of purchase and measures about three by 14inches. This system comes with perhaps the best price for KitchenAid stand mixer in the market.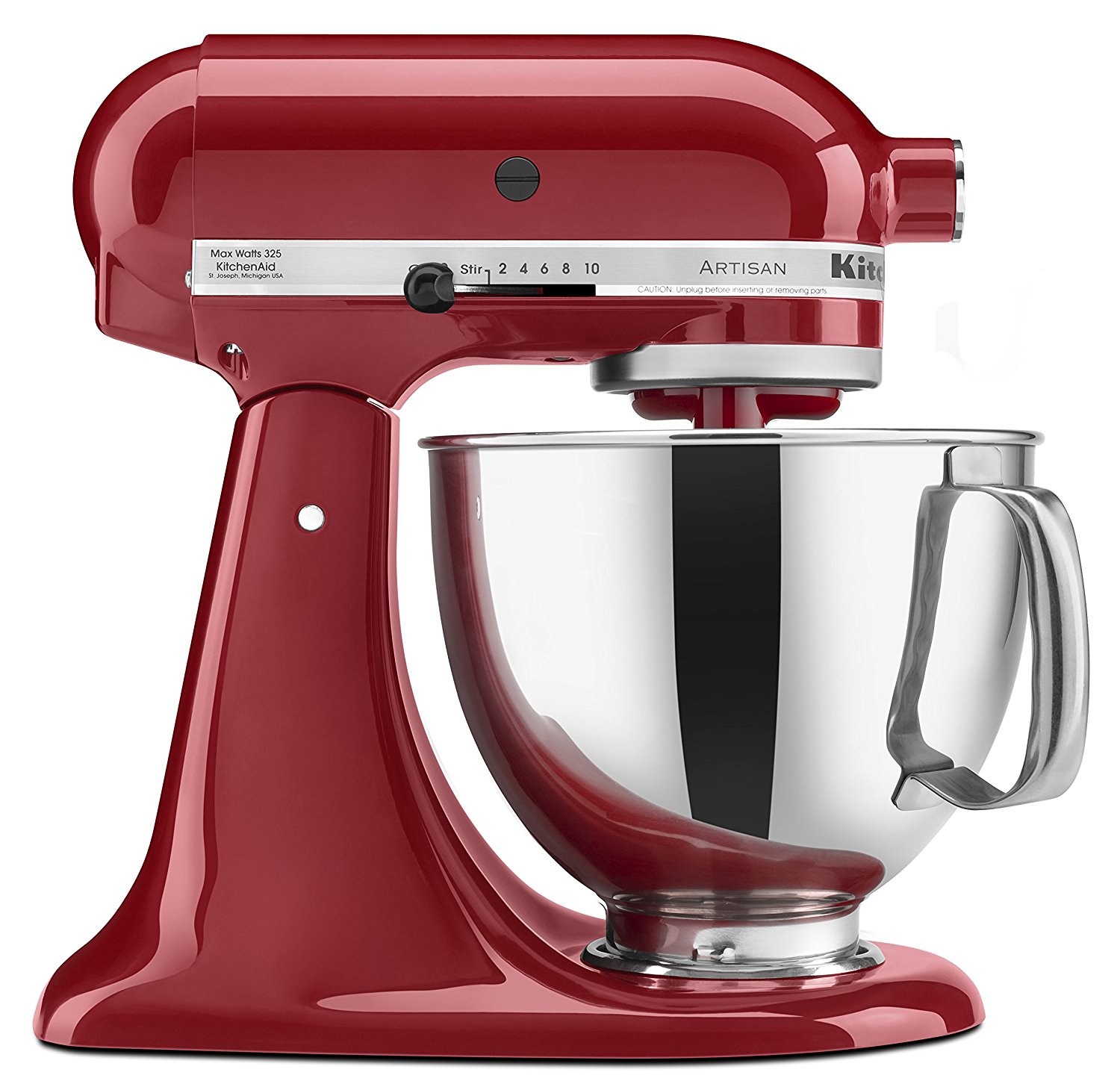 Click Here for Pricing, Pictures and Reviews on Amazon.com
Features of The KitchenAid Artisan KSM150PSER
Large Size Bowl – the large stainless steel bowl can hold five quarters of any content. The large bowl has a handle on the side; you can easily carry it to your cooking area. The stainless metal material makes it easy to clean dough does not stick on its sides.
Tilt head – one of the hardest things to do is to add ingredients to a steady head mixer; you have to wait and time when to pour in the contents to avoid making a mess. Artisan mixer has a tilt head that leaves ample space for you to add your ingredients when the mixer is running. You can easily mix wet ingredients into a dry mixture without making a mess in your baking area.
Additional attachments and Accessories – this Artisan mixer comes with many accessories and 15 additional options that you can buy along the way. It has nylon beater that is safe to clean in the dishwasher in addition to the many useful options it has for muffins, biscuits, and cakes. The mixer has and additional C-dough nylon that allows you to bake your bread with a perfect rise.
There is a wire whip for eggs and making whipped light, fluffy cream. Last but not least, the mixers pouring shield extends all the way to the bowl which protects your dry ingredients from blowing into the air, the pouring funnel makes it easy for you to transfer your mixture into baking sheets once it's done. This makes it the best deal for KitchenAid stand mixer.
Pros of The KitchenAid Artisan KSM150PSER
Artisan accessories dishwasher friendly, you can also buy 15 more attachment for your mixer.
The mixer has a 59 Point Mixing Action for easy mixing of all ingredients around the bowl
A 5-Qt bowl made of stainless steel is large enough for high capacity mixing of cakes, bread or cookies. The bowl has a firm handle on the side that makes the transfer of the mixture into pans and baking sheets.
KitchenAid Artisan mixer has a tilt head design that makes adding ingredients during mixing into the bowl easier.
It is the best rated KitchenAid stand mixer
Cons of The KitchenAid Artisan KSM150PSER
The one-year warranty offered is quite short for such a high-quality, durable product.
The mixer does not have a timer for you to set time for mixing sessions. It is advisable to use your watch or smartphone for proper timing.
The attachments are nylon coated. Due to exposure to heat, the plastic material may peel off with time.
K45SSOB KitchenAid Classic Series
K45SSOB series stand mixer is a dependable and robust equipment for your kitchen. It gives you the hand-off and mixing power operation to be able to multitask when cooking. The 10-speed, 4.5Qt, stainless steel fairly large bowl, kneads, whips and mixes your preferred ingredients to your liking. The power hub can perform a broad range of tasks with its different attachments.
Click Here for Pricing, Pictures and Reviews on Amazon.com
Features of the K45SSOB KitchenAid Classic Series
10 Speed Motor – it is powerful enough to perform almost any task or the desired recipe, whether it's whipping cream, kneading dough or string dry and wet ingredients together.
Multi-Propose Powerful Hub – the powerful multi-purpose hub transforms your kitchen into a cookery center. It has over 15 attachments it can perform any task from shredding a block or parmesan cheese to making fusilli pasta from scratch within the least time possible.
Stainless steel basin – the stand mixer has a 4.5Qt bowl made of stainless steel that can mash 6-pound potatoes, three pieces of bread and six dozen cookies. The bowl is dishwasher friendly; you do not have to worry about manually cleaning dough off it.
59-point mixing capacity – this stand mixer can rotate at 59 touch points at a go around the bowl for a finely mixed mixture. The dough hook, wire whip or beater rotates all around the bowl for a thorough mixing.
Pros of The K45SSOB KitchenAid Classic Series
It is relatively small hence suitable for small scale tasks and takes less storage space.
K45SSOB stand mixer has a compatibility capacity of up to 15 attachments for kneading, making pasta ice-cream and other recipes.
The dough hook, paddle, mixing bowl and whisk are dishwasher friendly hence are easy to clean and keep sparkling.
Cons of The K45SSOB KitchenAid Classic Series
All attachments including the dough hook, beater and whip are sold separately.
When the motor is running at speeds higher than 3, it tends to hit against the mixing bowl especially when kneading dough.
The KitchenAid 600 Series Stand Mixer
The Professional KP26M1XERseries stand mixer is considered among the best-rated KitchenAid stand mixer available. It combines durability, power, and versatility. It has the best features for the best professional stand mixer, that is, flat metal beater, six wire whisks and a spiral sturdy dough hook. Moreover, its power hub can fit over 12 attachments for baking, pasta making, and food grinding.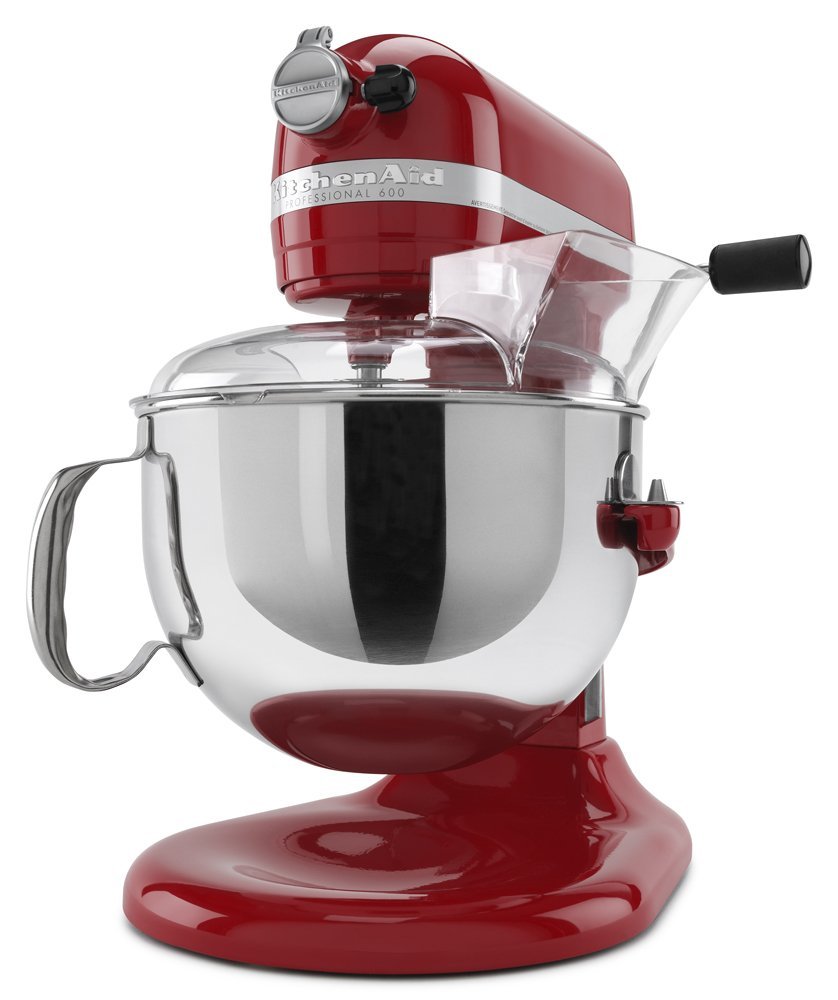 Click Here for Pricing, Pictures and Reviews on Amazon.com
Features of The KP26M1XER Series Stand Mixer
Wide color range – there are over ten different colors of KP26M1XER that you can choose from to match your lifestyle and personality.
6Qt-Stainless Steel Mixing Bowl with a Handle – the large capacity bowl allows you make eight bread loaves, mash 8 pounds of potatoes and up to 13 dozen biscuits. The bowl is safe for cleaning in the dishwasher and does not stain easily. The handle allows you to carry the container with ease even when full of ingredients.
Strong Power Hub and Attachments – the power hub is very powerful and has 12 optional attachments for any tasks you may have.
Ten-speed set options – you can choose your preferred speed depending on what you are mixing.
Lifted Bowl Design – the KP26M1XER Series Stand mixers bowl is raised to give a sturdy support and stability especially when mixing large batches or heavy ingredients.
67-Point Mixing Action – this means that the motor can rotate any of the attachments 67 points for every rotation ensuring thorough mixing of all ingredients. The beater, Dough hook, and whip all rotate around the bowl to give a finely mixed mixture. The lever is designed to lift the bowl and provide close contact with the beater or other attachments.
All-metal material construction for stability – to get professional performance from your stand mixer, the motor and gears should be manufactured from long-lasting and durable metal. The KP26M1XER stand mixer is designed to handle all type of heavy duty task since it is made of long-lasting, durable metal.
Pros of The KP26M1XER KitchenAid Stand Mixer
KP26M1XER KitchenAid stand mixer has an additional fastener on the head to provide stability and holds the bowl in position. Moreover, it can be adjusted by raising or lowering the lever.
Powerful 10-speed motor for all types of mixing tasks.
6Qt bowl size and 67-touch points rotation are the perfect combinations for mixing large cake and cookie batches.
Cons of The KP26M1XER KitchenAid Stand Mixer
This KitchenAid stand mixer is the noisiest due to its powerful motor.
The KP26M1XER is best to stand up mixer meant for large scale tasks and does not give the best results for small scale mixing.
The Cuisinart Stand Mixer
Cuisinart's SM-55BC stand mixer has the precision engineering, capacity, and power to execute any work that your recipe requires. It has three main accessories to knead dough, whip, and mix.
Click Here for Pricing, Pictures and Reviews on Amazon.com
Features of the Cuisinart Stand Mixer
12-Speed options – with this you can select the speed that suits the task.
Gentle fold and slow start – it is very easy to spill your wet and dry ingredients on the walls when the mixing speed of your mixer has no ramp-up. The SM-55BC has a steady slow start that builds up slowly to the speed you have selected. Moreover, the gentle fold is the best option for adding ingredients without full power mixing
Automatic shutoff and Timer – for most stand up mixers you have to manually check the time and shut it off when the job is done. Cuisinart stand mixer has a built-in timer and shut off; you can add all your ingredients set the time and let the mixer do its job; it will shut off once the mixing is done.
3 Power Ports for Attachments – this stand mixer allows you to set up to three attachments on the blender. It can hold several accessories that are, a blender, juicer, food processor meat grinder and pasta maker. One of the outlets is on the bottom while the other two are at the top for your special dinner layout.
Additionally, Cuisinart stand mixer has an 800-powered motor, 5.5-Qt stainless steel mixing bowl, two handles and a tilted head.
Pros of the SM-55BC Cuisinart stand mixer
The stand mixer has a built-in automatic shut off and timer.
The sm-55bc stand mixer has slow start off that accelerates steadily hence, fewer drips and spills.
It has three power port outlets where you can attach three distinct attachments for all types of mixing.
Cons of the SM-55BC Cuisinart stand mixer
The mixer has a low efficient mixing capability because it lacks planetary action, which reduces its contact with all content in the bowl for proper mixing.
The Hamilton 63232 Stand Mixer
Hamilton offers the best cheap stand mixer for people seeking affordable stand mixers. The all-metal red mixer high-performing mixer makes mixing and baking an easy experience that will take less of your time. The stand free mixer can perform a wide range of tasks, from thick, tough dough to delicate egg whisking. The 400-watt capacity motor makes mixing, kneading and whipping an easy task in the kitchen.
Click Here for Pricing, Pictures and Reviews on Amazon.com
Features of the Hamilton 63232 Stand Mixer
400-watt power motor – the powerful motor can mix fairly hick dough and work at considerably high speed.
Ability to adjust the mixing action – the Hamilton 63232 Stand Mixer can detect the densities of solid or liquid ingredients you add into the bowl. It gives a great rotation for thick ingredients and reduces the action on lighter mixtures.
Two Way mixing Rotation – this best stand mixer under 100 can mix ingredients in two ways, the head and beater rotate in different ways. As the head circumnavigates the bowl in one way, the beater moves in the opposite direction resulting in a thoroughly done mixture.
4.5-Qt Stainless steel Bowl with a steady handle on the side the bowl is dishwasher friendly.
A tilt-head with a quick-release lever
Pros of the Hamilton 63232 Stand Mixer
Double mixing action for quick and efficient mixing of ingredients.
A powerful motor that can stand all types of mixing even at very high-speed.
All-metal construction that ensures durability and longevity
Cons Hamilton 63232 Stand Mixer
The mixer vibrates and makes a lot of noise at high speeds.
The mixer has 12-speed options. However, only 6 of these are functional.
The Kenwood K Mixer Stand Mixer
The Kenwood K Mixer is undeniably an eccentric looking kitchen mixer. The K Mixer is Kenwood answer to the various critics who claimed that all Kenwood mixers are boring. From the look of things, the new and fresh design is an attempt to take out its immediate rival, Kitchen Aid. For such a long period, many home chefs, for their solid cast metal casing, and their traditional shape, have lusted Kitchen Aid mixers.
Features of The Kenwood K Mixer Stand Mixer
– The bowl attachment locks into place through a twist motion and simple push. The K-Mixer has been designed in such a manner that it is exceedingly easy to adjust the attachment's height, such that the ingredients that will be at the bottom of the container are easily included.
– The Kenwood K-Mixer also comes with three standard mixing attachments, balloon whisk, K Beater and a dough hook. Unfortunately, the K-Mixer has not been contrived with a cream beater. Nonetheless, the cream beater can be purchased separately. If you are planning to use the dough hooker, then you should always be on the lookout for the dough weight limit.
– The K-Mixer weight limit is 1.3 Kg, thus to put this in perspective, some of the low-end Kenwood Mixer has a dough limit of 2Kg. Thus, if you are planning to make large bread, then you should consider other alternatives such as the Kenwood KM336.
– The Kenwood K-Mix also comes with a large five-liter stainless steel mixing bowl that comes with a useful handle. However, despite having plenty of room, the bowl has been concocted with exceedingly steep sides and a large handle.
– As expected, the K-Mixer has been designed with a splash guard. The great thing about this splash guard is that the spot through which the ingredients will be poured comes with a hinged lid. This, in turn, means that the splash guard can be propped open and when pouring, the user can employ two hands.
– Just as it is the case with Kenwood Mixer, the K-Mixer comes with an exceedingly slow power outlet. The various attachments are securely fastened by injecting them into the power outlet and then rotating at an angle of 90 degrees.
– Some of the optional attachments that can be fitted include; Tagliolini pasta cutter, Spaghetti pasta cutter, Trenette pasta cutter, Multi-food grinder, Flat pasta roller and many others.
Pros of The Kenwood K Mixer Stand Mixer
A chef-d'oeuvre
Comes with a five-year warranty
Concocted with a quality die cast aluminum body
Cons of The Kenwood K Mixer Stand Mixer
Has a lower dough weight
No high or medium speed power outlets
Does not come with a cream beater
The Andrew James 5.2L Electric Stand Mixer
Andrews electric stand mixer will take all the baking stress away from your kitchen. The mixer is available in five different colors and has four-attachment capacity; it is considered the most beautiful Stand mixer for your baking experience. The stainless steel stand mixer can hold 2kgs of your baking ingredients with its 5.2L capacity bowl.
Features of the Andrew James 5.2L Electric stand mixer
Powerful 800Watts robust gear motor – this will mix any ingredients at high and low speed to give you your desired mixture.
Splash guard – one of the disadvantages of stand up mixers are splashing and spilling bowl contents on the counter and wall. Andrew's stand mixer comes with a splash guard to keep all the ingredients in the mixing bowl.
Aluminum beater – this is ideal for mixing cake paste and whipping butter, cream, sauces, and dips within the shortest time possible.
Balloon Whisk – this attachment produces whisked meringues within no time. It saves you the trouble of whipping meringues manually with your hands which are a lot of trouble and time-consuming.
Dough Hook – wether it's pizza or bread dough, this attachment delivers the best dough for your baking by combining and mixing all ingredients finely even for fruit cake mixtures.
Flexible Beating Blade – some mixtures will stick on bowl surface. This beater sweeps all the ingredients from the bowl sides into the center for efficient mixing.
Pros of The Andrew James 5.2L Electric stand mixer
Easy to set up
Reasonably priced
Comes with a menu books
Cons of The Andrew James 5.2L Electric stand mixer
The machine needs to cool down after every five minutes.
The Tefal Kitchen Machine
The Tefal Kitchen Machine is a carefully designed stand mixer, which offers excellent mincing, juicing and blending functionality. This will significantly cut down the amount that someone spends in their kitchen. If you are looking for a mixer which can tackle a broad range of jobs, then the Tefal Kitchen Machine might be what you need. Furthermore, the Tefal Kitchen Machine comes with exceedingly reasonable features.
Features of The Tefal Kitchen Machine
When a user is thinking of a standard food mixer, one would probably envisage a product which has specifically been built to knead, whip and whisk ingredients to the preferred consistency. The main reason why a majority of users purchase mixers is to eliminate the heavy lifting, and mixers are exceedingly fantastic at doing that.
However modern mixers are being designed in such a manner that they can be able to handle incredibly complex tasks some of which have nothing to do with baking. This, in turn, means that one can be able to tackle a considerable amount of kitchen work with these mixers.
The Tefal Kitchen mixer is one such product, which offers exceptional mixing power and some other opportunist such as slicing of vegetables cheeses and shredding. Furthermore, with this mixer, one can be able to mince meat, which can come in handy when your family is in need of a spaghetti Bolognese.
The Tefal Kitchen Mixer also comes with a 1.5L blender attachment that will allow the user to make exceedingly healthy and delicious fruit juice, cocktails and soups. However, the only downfall with such an attachment is that it is a little bit confusing especially when one is learning to clip attachment onto the machine and unclipping them as well.
Thus, it is highly recommended to go through the instruction guide before purchasing the kit. This rather incredible functionality is backed up with state of the art attachments which make up the core of the mixing arsenal such as a beater for all the light doughs, kneading hooks and a multi wire whisk.
Pros of the Tefal Kitchen Machine
Powerful 900-Watts motor
Planetary movement action for an exceedingly better mix
Huge 4.6 liters Stainless Steel bowl
Cons of the Tefal Kitchen Machine
Conclusion
As mentioned before, stand mixers are designed with large mixing bowls and numerous different attachments each for different mixing technique. Stand mixers are usually stationary; thus, you can, therefore, leave it to work while you collect other ingredients. Other recipes would require you to add while mixing; this can be easily done with a stand mixer.
The only inconveniences that a mixer may have is the weight of the metal used in making them; this can get in the way of working around mostly if you keep it in the cabinet. However, if your kitchen is spacious, you can station it at one area where you do not need to move it regularly.
Find the best mixers by looking at the guide above.
All the best!!