So you are thinking of buying a waffle maker? Great choice! Waffle Irons make more than just waffles these days.
So how do you decide on the best waffle maker for you? There are a few considerations you should keep in mind before deciding which is the best waffle iron that will win a spot in your kitchen.
Things You Should Know Before Buy
Classic or Belgian
Classic waffles are the traditional Eggo waffle style waffle. Thin and crispy, and a classic for a reason. Many people like the uncomplicated, straight up crispy waffle, just like the good old days.
Other folks like the deep pockets of the Belgian waffle to trap butter, syrup and whatever other goodies they find to top their waffle.
As we mentioned in the beginning, waffle makers make more than just waffles. They can be used to make omelets, Panini sandwiches, hash browns and even cookies.
So, when choosing a waffle maker, if you want to make things other than waffles, consider how the pocket size and thickness will change whatever you are making in the waffle iron.
Stovetop or Electric
There are two types of waffle irons. The really traditional, or old fashioned stove top waffle maker and the more modern electric waffle maker.
One benefit of a stove top model is it works without electricity, which means you can take it camping. The benefit of an electric waffle iron is they are readily available, inexpensive, and save you the hassle of using the stove.
Size
Are you cooking for a crowd or will your waffle making be a smaller production? Some waffle makers are larger than others, so choose a size that will work for you.
Number of Waffles
Two waffles or 4? This is what most waffle makers will accommodate. Two waffle machines are more compact which works if you live in a small place, don't have kids, wont be making a lot, or you just want a machine that does not take up a lot of space.
While there are not many waffle makers that make more than 4 waffles, the double Belgian waffle maker by Cuisinart has two layers for double the waffle making action. Genius!
If you have a lot of waffle makers this one might be a good buy. It is one of the best waffle irons.
Shape
Waffles aren't just for squares anymore. Waffle iron manufacturers are getting pretty creative these days. They had Disney shapes, hearts, round, waffle irons with floral patterns; one in the shape of Texas, and the list goes on.
If shape matters to you, consider that before you purchase. The best waffle iron really has more to do with taste and texture, but if we can have a little fun along the way, why not?
Grill Surface
The most and the best waffle irons have either a cast iron surface, in the case of stovetop models, or they have a non-stick coating. If the waffle iron does not have a non stick surface imagine how challenging it will be to clean.
Some models take this a step further and have removable dishwasher safe plates. This makes cleaning much, much easier. One model we reviewed, as seen in our Oster Waffle Maker Review has a special ceramic coating which is more durable and does not chip and peel.
If you are looking for a non-stick coating alternative, give the Oster waffle maker a try. This is one of the best waffle makers we reviewed.
Thermostat, Indicator Lights
A thermostat allows you to control the level of brown in your waffle. Be sure not to set the iron too low. A temperature that is too low will not render a crispy waffle, and is often the culprit behind soggy waffles.
Indicator lights are nice to have because they give you a visual indication about what is happening with your waffle iron. The lights tell you when it is time to pour the batter, and when the waffle is done cooking.
Lights with audible indicators are even better, because they help prevent overcooked or burnt waffles. Our waffle maker reviews will let you know which models have these features.
Flip Models
Flip model waffle makers allow you to pour your batter, then flip the unit so the batter spreads out over the surface of the waffle maker, producing a light, crisp waffle.
It is a great feature to have and helps you avoid a soggy, heavy, pancake like waffle. Be sure to oil this type of waffle maker well, so the waffle releases from the cooking surface.
Digital Controls
Not many waffle makers have a digital display. Of those that do have a digital display, the vast majority show the time remaining until the waffle is done cooking. They are basically countdown displays that give you a rough idea when your waffle will be finished.
Recipe: Waffle Maker Pizza Dippers
Here is a fun recipe you can try on your waffle iron. It is great for parties, sleepovers or just for fun.
Ingredients:
2 cans refrigerated crescent rolls
1 16 oz Jar pizza sauce
½ lb Mozzarella cheese, grated
1 Small package of pepperoni
Cut crescent rolls into two equal parts. Sprinkle a few teaspoons of mozzarella cheese in the center of one half. Place one piece of pepperoni on top. Fold the roll, so it closes and none of the cheese can escape while it is melting.
Prepare 3 more just like this.
Heat the waffle iron. Once the waffle iron is ready place the 4 rolls on the iron and shut. Allow to cook for about 3 minutes, check to insure the dough does not burn.
Once the dough has a deep gold crust and is completely cooked, remove from the iron. Repeat these steps with the remaining ingredients. Pour the pizza sauce in a bowl and use as a dipping sauce for the pizza dippers.
Without further ado, let's look at the waffle iron reviews.
Waffle Maker Reviews
Best Double Waffle Maker
Double your fun with a double Belgian waffle maker. Get breakfast on the table in half the time and easily cook for a crowd. So, what is the best double waffle maker?
Cuisinart WAF-F20 Double Belgian Waffle Maker
Click Here for Pricing, Pictures and Reviews on Amazon.com
PROS
Creates two waffles at the same time.
6 settings to control the level of browning.
2 LED indicators plus an audio tone to let you know when to pour your batter and when the waffles are ready.
Flip feature allows you to turn the waffle for even cooking.
Non-stick cooking surface.
CONS
Because of the deep pockets this waffle maker has, it may be harder to get the crumbs out.
REVIEW
This waffle maker is a real help to cooks who are baking for a crowd. The waffle iron includes a recipe for waffles that is quite exacting, but turns out a superior Belgian waffle.
Other items, such as hash browns, can also be made in this waffle iron. Of all the waffle maker reviews we have done, this one stood out as a favorite. Great innovation from Cuisinart. Bravo!
Best Cheap Waffle Maker
Presto 03510 FlipSide Belgian Waffle Maker
Click Here for Pricing, Pictures and Reviews on Amazon.com
PROS
Digital countdown display with 4 minute timer.
Budget price.
Flips waffle for even batter spread.
Compact design, fits in virtually any kitchen.
Easy to store away, stands on its side.
Sound design, lid weight rests on counter, not on the hinge.
CONS
Plates are not removable.
REVIEW
A digital display is a nice feature to have in a waffle maker in this price range. While the 4 minute timer may be a little bit too much time, it's nice to see the countdown so you know how long your waffle has been baking.
With this model it is important to flip the waffle immediately after you pour the batter to get the lightest, crispiest waffle possible. This is a small unit, great for apartments and small kitchens. One of the best cheap waffle makers we reviewed.
Best Belgian Waffle Maker Reviews
KRUPS GQ502D Adjustable Temperature Belgian Waffle Maker
Click Here for Pricing, Pictures and Reviews on Amazon.com
PROS
Consistently delivers waffles that are crisp with a tender interior.
Non-stick plates are removable and dishwasher safe.
Knob control allows you to set your desired level of browning from 5 levels.
Green LED and audible beep lets you know your waffle is done.
Stainless steel outer shell, locking handle and cord storage.
Can be stored on its side.
CONS
The waffles are not quite as thick or high as a traditional Belgian waffle.
REVIEW
Two things make this waffle maker one of the best Belgian waffle makers on the market. First, it has a beeping indicator to let you know the waffle is done, which takes the guess work and babysitting out of the equation.
The other is that the plates are removable. If only more waffle irons had removable plates that can go in the dishwasher! What a great buy! One of the favorites and one of the best Belgian waffle maker reviews.
Bella Rotating Waffle Maker Review
BELLA Classic Rotating Belgian Waffle Maker
Click Here for Pricing, Pictures and Reviews on Amazon.com
PROS
9 browning settings to control the level of browning.
Flip style model to spread batter evenly.
Cool touch handle so you can flip while the iron is hot.
Non-stick cooking surface and under pan drip tray make clean up easy.
Auto lock lid keeps the lid securely shut.
Non-skid feet keep waffle makers securely in place on the counter.
Detachable power cord for easy cleaning and storage.
Green ready indicator light.
CONS
The waffles have been known to stick and the non-stick surface is low quality.
REVIEW
So, Bella waffle maker reviews are what you want to see? You got it!
This waffle maker showed us that once you figure out properly the timing – this is a great pick for the best waffle maker for a Sunday breakfast with the family.
With time it might be showing signs of waffles sticking to the cooking surface, but that will be your funny Sunday hassle to share with your family. But do keep in mind that the plates aren't removable, if you were hoping on washing it with a dishwasher.
With all of that in mind, this is still our best pick for a Bella rotating waffle maker review. If you're set on buying yourself a Bella brand waffle maker, then by all means, do your research with a few other Bella waffle maker reviews
Oster Waffle Maker Review
Oster CKSTWFBF10MR-ECO DuraCeramic Flip Waffle Maker
Click Here for Pricing, Pictures and Reviews on Amazon.com
PROS
Special Dura Ceramic non-stick coating won't chip or peel.
Easy to clean and free of non-stick coating chemicals that are harmful to your health.
Cooks faster than other similar models.
Flip feature allows for even spread of the waffle batter, resulting in a light, crispy waffle.
Adjustable temperature control and drip tray.
Folds and stores upright to save space.
CONS
Faulty or cheap handle is prone to break.
REVIEW
This would be an awesome waffle maker except the handle is not very sturdy and prone to break. Bummer, because the ceramic coating lives up to the hype. It gets quite hot, with even heating and it really is non-stick.
It is an attractive waffle iron with a ceramic non-stick surface that is healthier than regular non-stick coating. There is a lot to love about this waffle maker; we just hope the handle holds up for you.
Breville Waffle Maker Review
The Smart 4-Slice Waffle Maker
Click Here for Pricing, Pictures and Reviews on Amazon.com
PROS
Stainless steel housing.
Cast aluminum cook plates.
Waffle IQ technology cooks the waffles to your preference.
12 heat settings.
Digital display.
Deep pocket Belgian waffles.
No need to use cooking spray.
The overflow in the moat gets cooked, right along with the waffle, so it is easy to clean because the overflow comes out with the waffle.
This waffle maker stays hot, so you can make waffle after waffle without stopping.
CONS
This waffle maker is heavy and the plates are not removable.
REVIEW
Why is this one on our list for Breville waffle maker reviews? Because this is one of the top rated waffle makers that practically makes the waffles for you.
It has a superior non-stick surface so stuck-on waffle will not be a problem. It heats evenly, for every waffle, so the first waffle with be as crisp and delicious as the last one you made.
It has a digital display with an unprecedented 12 heat settings. You can customize your settings to your exact specifications and reuse those settings again and again. It has a timer and beeping indicator to let you know the waffle is done, preventing over cooking or worse-burning the waffle.
It is made from stainless steel and is quite heavy, and the plates are not removable so this can be a bummer, but the non-stick works well, so there should not be too much cleaning needed.
This is one of the best waffle makers.
Waring Pro Double Waffle Maker Review
Waring WMK600 Double Belgian Waffle Maker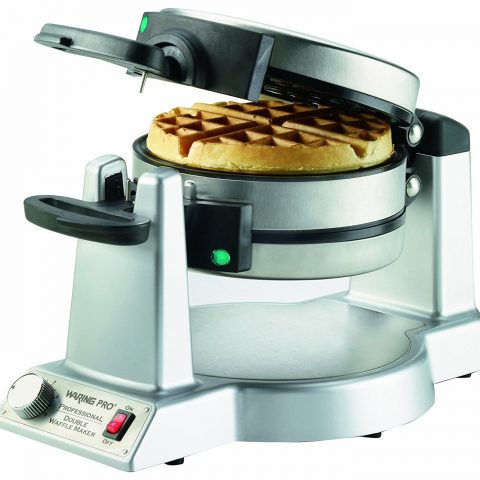 Click Here for Pricing, Pictures and Reviews on Amazon.com
PROS
Deep pocket Belgian waffle.
Non-stick coating easily releases waffle.
LED Light and audio tone indicator tell you when waffle is ready.
Browning control knob.
Makes two waffles at once.
CONS
REVIEW
We included this Waring Pro double waffle maker review because this is a great waffle maker if you have a large group of people to feed. It makes two waffles at once, something only a few other waffle makers can do.
Given its special abilities, you will need to forgive the fact that the plates are not removable and it can be a bear to wash. Maybe one of the many mouths you just fed with the waffle maker could help you clean the unit?
Cuisinart 4 Slice Belgian Waffle Maker Review
Cuisinart WAF-150 4-Slice Belgian Waffle Maker
Click Here for Pricing, Pictures and Reviews on Amazon.com
PROS
Non-stick plates.
Cord storage under unit.
Stores upright for easy stowage.
Red light lets you know the unit is on.
Green light indicates waffle maker is ready for batter and waffle is done.
5 Heat settings.
Locking top holds the plates in place.
Carry handle built into the unit.
Includes instruction book with recipes.
CONS
Not quite as thick as Belgian waffles.
If you don't use oil the waffles may stick.
REVIEW
This is a classic, standard waffle maker with a few modern features. While it is a Belgian waffle maker, the waffles are short, somewhere between a classic waffle and a Belgian waffle. The size is great, even though it only makes one waffle at a time, it is a large 4 square waffle.
You can select the level of browning if you like crispier waffles. Cuisinart is a name you can trust and this, as one of their best waffle makers, lives up to the Cuisinart name, therefore a must here on the Cuisinart 4 slice Belgian waffle maker review.
Hamilton Beach Waffle Maker Review
Hamilton Beach Flip Belgian Waffle Maker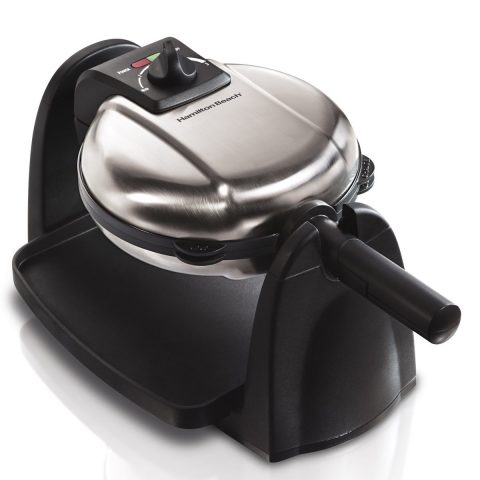 Click Here for Pricing, Pictures and Reviews on Amazon.com
PROS
Removable plates, a huge cleaning advantage.
Flip style waffle maker for even spreading of the waffle batter.
Budget price point.
Adjustable browning control, green and red ready indicator lights.
Tray and plates are dishwasher safe.
CONS
Some trouble cooking the waffles evenly on both sides.
The iron does not get hot enough.
REVIEW
This waffle iron has all the right specs, unfortunately it does not always cook evenly or get hot enough, causing it to take a long time to cook.
That is a bummer because we love this Hamilton beach waffle maker review with its removable plates and flip feature, and low price. It appeals as one the best waffle makers.
Tips for Making Great Waffles Every Time – AKA Waffle Making Hacks
Always use cooking spray or oil on the waffle plates, even on non-stick surfaces. This will make your life easier when it is time to clean the waffle iron.
When mixing the batter, set the egg whites aside, mixing all other ingredients. Take the egg whites and beat them until they form soft peaks. Gently fold in the egg whites, being careful not to over mix.
The air the egg whites add to the batter makes for the lightest crispiest waffles you have ever eaten.
When deciding how much batter to put on the iron, lean towards the side of too little. Adding too much batter makes heavy soggy waffles that do not brown properly. Keep increasing the amount for each successive waffle until you have the perfect amount.
Note the amount and use that same measuring cup each time you make waffles for a consistent crunchy, light and fluffy waffle.
If you find that your waffles stick to the iron add a tablespoon of cooking oil to the batter that will help the waffle release from the waffle iron when it is done cooking.
Do not over mix waffle batter. Mixing too much changes the nature of the protein in the flour leading to chewy, not fluffy waffles. Remember, you knead bread to get the chewy texture because this is what bread is supposed to be like, but for waffles, less mixing is key.
No buttermilk, no problem. In place of buttermilk, get a cup of milk and add a teaspoon of lemon juice. Let sit for a few minutes and use in any recipe calling for buttermilk.
If you like to have waffles any time, then waffles store great in the freezer. Just allow them to cool and place in a zip lock bag. To re-heat, place them in a toaster or toaster oven, just like an Eggo. The texture will be almost as delicious as a fresh waffle. Yum!
We hope you're no longer doubting what is the best waffle maker for you. And we're confident these reviews will soon help you find the best waffle maker for you!